June 27, 2020 at 12:55AM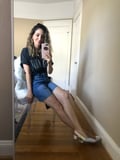 I've owned a ton of high-waisted denim shorts over the years, and the one disappointing aspect that's been consistent is that I'm never happy with the fit. There's always a tug-of-war between the waist height and pant length that either leaves me feeling like I'm showing too much leg or that, in order to cover my butt, the waistline digs into my hips. And I've tried to look for denim bermuda shorts in the past but they've felt too tight on my thigh. I recently decided to try Old Navy's High-Waisted Relaxed Cut-Off Jean Shorts ($20, originally $30) because the brand makes such great jeans to begin with, and these were reasonably priced. My review? Holy heck, these shorts are absolutely perfect.
é
For starters the fabric is soft along the inner thigh – I'm talking NO CHAFE even on walks – and the shorts are stretchy without looking that way. The wash is slightly distressed, which makes me want to wear them with casual t-shirts and tailored blazers. Since I wore these shorts on a hot day I went with a sheer polyester blazer.
These are my absolute favorite Summer shorts and I can't wait to wear them with wraparound sandals and even button-downs. They fit true to size and don't require any breaking in.
More Celeb News
Author Rebecca Brown | Popsugar
Selected by CWC